Microdermabrasion Machines- Best Technology to Regain Your Youthful Skin
Due to the ever-increasing amounts of stress and pollution, the face gets affected. As it is the mirror of the mind, it reflects marks and darkening from stress as well as all the tension that life faces from day to day. Revolutionary advances in cosmetic medical technology have evolved procedures to remove any flaws on the skin to leave flawless, spotless and sparkling face. Many processes have been devised but amongst the best is Microdermabrasion Treatment that rejuvenates the face to make it smooth, glowing, spot-free and bright and is an ideal Non-surgical wrinkle treatment. This is especially useful for people who have their any scar on their face or are blighted by wrinkles or facial lines, sun damage, pimple and acne spots, age spots, dark spots, hyperpigmentation, uneven skin texture and tone, clogged pores or for permanent treatment for any facial scar. Microdermabrasion is an incredibly popular treatment at the day spa, salon, and dermatology clinic alike.
Microdermabrasion
Microdermabrasion is a non-invasive procedure that uses tiny crystals or other exfoliating surfaces to help remove the superficial layer of dead skin cells. When you remove the stratum corneum or the top layer of skin, the body interprets it as an injury. It then quickly replaces the lost skin cells with new, healthy ones. The entire procedure usually takes about 30 minutes for the face. The machines can buff and polish the skin using a stream of fine crystals or a diamond tip, while some also vacuum loose skin cells from the face.
Best microdermabrasion machines
There is a great variety of microdermabrasion machines on the market. In this article, we will take about the best professional microdermabrasion machine reviews.
New Spa: Portable Diamond Microdermabrasion Machine
As a refresher, a diamond tip is better than crystals to gently slough off your skin and vacuum the dead skin cell away because you don't need to handle messy crystal.
Pros: This ultra-portable machine is perfect for travel and for use in small spas. It includes loads of attachments in a sturdy case. Powerful 16" Hg suction is great for oily skin and clogged pores; great price.
Cons: Tips can dull quickly if used incorrectly
Kendal: Professional Diamond Microdermabrasion Machine
It is certainly one of the most highly recommended by spa owners. It provides a Non-Surgical skin resurfacing procedure by using sterile diamond heads to peel and rub off the dead cells at the top skin layer followed by vacuuming/suction removing particles along with any dirt and dead skin.
Pros: This easy-to-clean machine includes tons of extras for a reasonable price. A convenient gauge indicates suction pressure in real time (max 26" Hg).
Cons: Many users experienced disappointing customer service and complained that the machine on/ off switch is prone to malfunction.
New Spa: Diamond Microdermabrasion Machine
Getting this machine made us pretty excited, we couldn't wait to start playing around with it – and hopefully getting some better skin. It will gently exfoliate the top surface of the skin to reveal the healthier skin underneath. The surface of the skin is massaged gently, and the suction feature gently vacuums the dead skin cells away.
Pros: Powerful 25" Hg suction effectively removes a top pigmented layer of skin; includes tips for face and body; professional quality; reasonable price; convenient "suitcase" design.
Cons: Advertised "for professional use only" and may be too powerful for some users; can damage skin if used incorrectly.
Trophy Skin: MicrodermMD Microdermabrasion Machine
Using professional grade diamond tip technology combined with a high-powered vacuum system, the MicrodermMD gently exfoliates the top 3-5 layers of the outer dermis, removing dead skin and debris. This causes the rebirth of collagen and elastin, giving the skin a smooth and glowing appearance. Uneven skin tone and texture will gradually become smooth and uniform. There is no need to apply messy creams, scrubs or serums! Secondly, it promotes blood flow and sends vital nutrients such as collagen and elastin back to the surface of the skin promoting smoother, brighter, healthier, more youthful looking skin. MicrodermMD will also enhance the effectiveness of your favorite skin care creams and serums by removing the thin layer of dead skin on the surface of the skin and allowing rejuvenating actives to sink deeper below the dermis and work more effectively.
Pros: Features an easy to use "auto mode," LED screen, 8 suction levels, and 3-year warranty. Works with all skin types and includes 100 filters.
Cons: This costly, high maintenance machine requires specific cleaning and replacement parts. It comes with only one head and takes some time to figure out. Max suction is 17.7" Hg.
PMD: Personal Microderm System
The PMD System is a mix of professional crystal and diamond microdermabrasion tips. Like professional machines, PMD uses aluminum oxide crystals. The crystals make up a flat, sandy disc, similar to a professional diamond-tipped head. The PMD also uses suction or a vacuum action that serves to pull the skin closer to the sandy disc in order to abrade the skin and remove dead skin cells.
Pros: Ready to go as soon as you open the box; portable; good price; easy to use; aluminum oxide crystal tips are safer and gentler than diamond tips.
Cons: Can leave red marks if used incorrectly; corded operation; discs must be replaced often.
NuBrilliance Microdermabrasion Skin Care System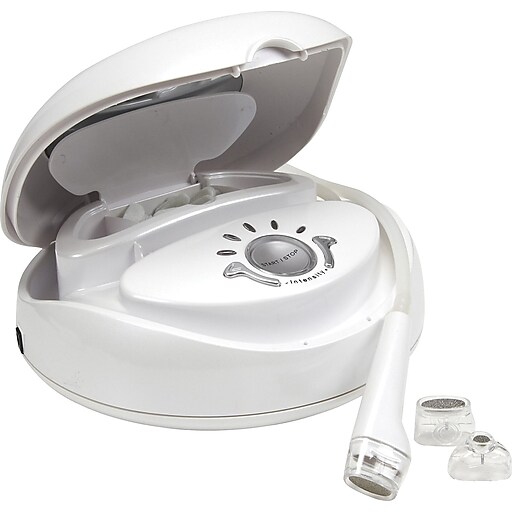 NuBrilliance is a non-invasive aesthetic treatment that exfoliates dead and flaking cells on the surface of the skin and rejuvenates the layers underneath. Along with a diamond tip & Coupled with varying levels of suction, microdermabrasion promotes the skin's natural cell regeneration process through the production of collagen and elastin, thus improving the elasticity of the skin. This product by NuBrilliance is one of the most popular microdermabrasion machines in the market. You can customize your treatment based on your skin type and sensitivity. On the flip side, although you get a 3-year warranty, the machine looks and feels very plasticky and fragile.
Pros: It is easy to use, having a diamond tip. And the best part is it is lightweight with suitable doe sensitive skin.
Cons: Poor quality build and gripes about this machine is that the suction device tends to become faulty, often happening around the 6-week mark (the refund period is 30 days).
Microderm Glo Mini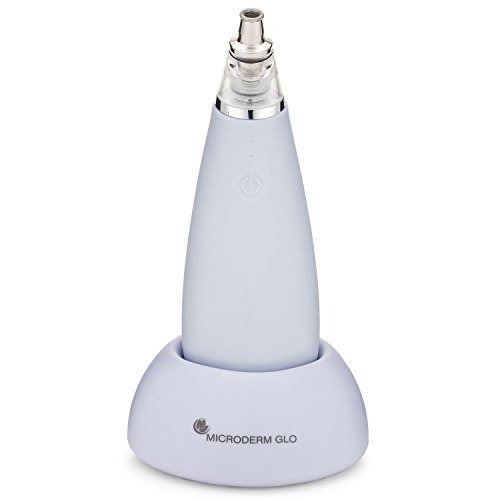 The machine is a fantastic device for aging and mature skin. It fits in one hand and is incredibly easy to use. With diamond tips and a customizable suction, it does a wonderful job of exfoliation and smoothening. You can charge it and use it anywhere. If you're a beginner, this product is a must-try!
Pros: It is user-friendly, travels friendly. Also, it is suitable for all skin types.
Cons: None
Airblasters Hydro Microdermabrasion Dermabrasion Water Peeling Facial Skin Care Machine
This machine comes with enough suction even without using the maximum suction. After the sessions, everyone will be commenting on how gorgeous your skin looks like. If you previously had rough skin, be ready for softer and supple skin. Even those spider veins that have been running along your thighs will disappear, once you start using this remarkable dermabrasion machine.
Pros: It produces professional results; it is easy to use; having a great suction as well as it is a cost-effective solution to a healthy and beautiful skin
Cons: Instructional manual is lacking.
Key Point to Understand
The microdermabrasion machines are designed to deliver optimal results in terms of removing skin impurities and reduce skin damage. These machines use advanced technology and reliable materials to help you eliminate the unwanted impurities in your skin. As we see most of the machines use the reliability of diamond tips, some are even provided with vacuum function for enhanced results. This machines used for the salon as well as a home purpose but for best results, getting a professional treatment is more effective than using a microderm machine by yourself at home, partly because the aesthetician performing the spa service has extensive skincare knowledge. Whatever machine you choose for microdermabrasion you just have to make sure you keep the machine extremely clean to prevent bacteria from getting into freshly abraded skin.